First time to Thailand? Planning a trip by yourself? Don't know which places of interest in Thailand are something for you? Don't worry, we've all been there.
Deciding which experiences to include in your precious travel time can feel like an impossible task. This is especially true if the destination has controversial reviews, as Pai does. In this post, we will try to help you decide whether Pai is worth visiting by going through things to do in Pai.
What to See in Thailand
Thailand is a fascinating country to visit, offering anything from picture-perfect beaches on the islands in the south, impressive temples around Bangkok and authentic villages set in refreshing green fields and mountains in the North. It is very tempting to try to see it all at once.
Being advocates of slow travel, we'd recommend focusing on either the South or the North if you're planning on staying in the country around two weeks or less. This will help you really experience the country and avoid rushing through in the quest of ticking off all places of interest in Thailand.
Southern vs Northern Thailand In a Nutshell
The South is great for relaxing on one of the islands (like Koh Lanta), embracing the party scene by joining a Full Moon Party or being more active in Khao Sok National Park where you can sleep in floating bungalows on a gorgeous Cheow Lan Lake. The North, on the other hand, is famous for its rich culture, mountainous landscapes, temples, green fields and picturesque festivals such as Loi Krathong (lantern festival) in Chiang Mai.
Typical Northern Thailand Itinerary
For the sake of this post, we'll focus on the north. Northern Thailand itinerary typically starts in Bangkok as it is both a national and an international hub. You can then make your way up to Chiang Mai and venture out to Chiang Rai or Mae Hong Son province from there.
Northern Thailand Map
Grab a train from the capital and start your slow travel towards Chiang Mai - the country's Northern capital and the second biggest city. On the way there stop in Ayutthaya and Sukhothai for a couple of days to explore the impressive temple complexes in the quieter and less touristy places in Thailand.
Having spent a couple of days embracing the local culture and the very special vibe in Chiang Mai, travel to either Mae Hong Son province or Chiang Rai. Although the latter is a rather small town of only 75,000 inhabitants, it is by no means a quiet place. The town is very vibrant attracting people to see one of the more unique places in Thailand - the White Temple. From Chiang Rai, many travelers continue their journey to Laos and take a slow boat cruise to Luang Prabang.
Mae Hong Son province borders with Myanmar and is the most mountainous province in Thailand. This region attracts people looking for serene nature and authentic village experiences. That being said, if you're looking for more adventurous things to do in Thailand, it is also here. Jump on a motorbike and do the Mae Hong Son Loop - a multiple day journey through serpentine roads and small settlements.
One of the most popular stops on the loop and within the Northern Thailand itinerary in general is Pai, a small village about a four-hour-minibus drive away from Chiang Mai.
Pai - Still a Picture-Perfect Village or a Party Central?
Over a decade, Pai has been promoted as an idyllic place for travelers willing to escape the concrete of Chiang Mai. The campaign proved to be so successful that Pai has gained a permanent spot on the Northern Thailand itinerary, especially among the young backpackers.
Although Pai still maintains its charm being set in a gorgeous natural surrounding, it is definitely not a remote hidden gem you might imagine it to be. Every night the main road running through the village turns into a walking market street with an endless flow of tourists. Buzzing bars and restaurants play loud music and compete for customers by offering ever-so-cheap cocktails. In a nutshell, a typical Southeast Asian backpacker street.
With tourist numbers soaring, national and international investment started pouring in. Besides improving infrastructure and accessibility, this has also lead to the construction of numerous restaurants, hotels and luxurious resorts. Many celebrate these changes as progress and a step forward in terms of the region's development while others see them as a shameful loss of local culture and authenticity. This is the reason why travelers who've had the chance of visiting the town a decade or two ago argue that Pai is not worth visiting, not anymore.
Be as it may, Pai still remains a valid entry on the list of places of interest in Thailand.
Is Pai Worth Visiting?
Whether or not a place is worth visiting depends on the value you assign to the experiences you (may) gather while being there. This value, in return, hugely depends on your personal and thus very subjective expectations and aspirations. What may be of interest and value for you, is a total waste of time for someone else.
Naturally, it is much easier to judge whether something was worth your time in hindsight (duh). In contrast, compiling your travel itinerary without suffering from the FOMO (Fear Of Missing Out) may be a daunting task. To help you decide whether Pai is worth visiting during your Northern Thailand trip, here are a couple of points to consider.
Pai Is Worth Visiting If 
You want to...
see Northern Thailand, but the Mae Hong Son Loop on a motorbike is not for you

slow down and enjoy a couple of chilled days in a milder climate

explore nature (waterfalls, caves, rice fields, hot springs)

enjoy or don't mind the backpacker scene
Pai Is Not Worth Visiting If
you're expecting to stay in an authentically traditional Thai village, eating local food and not seeing any other foreigners

you get easily annoyed by the crowds, especially those of tourists

seeing drunk tourists eating burgers and drinking mushroom shakes triggers an emotional reaction
Things To Do in Pai
After a day in Pai you will feel the relaxed mood and the overwhelming need to slow down take over your body and mind. That is, if you've booked yourself a nice bungalow with a hammock on a terrace, far enough from the action and the noise of Pai walking street. We can highly recommend staying at Phu View Guesthouse.
Here below is the list of things to do in Pai, our visit tips and whether or not we would recommend going there.
Pai Canyon (Sunset)
Despite the natural attraction being sometimes referred to as "Pai Grand Canyon", Pai Canyon is actually rather small. There's also only one trail - to the furthest viewpoint and back. Don't let that discourage you. What Pai Canyon doesn't have in size it compensates with the adventurous spirit required to explore it. Narrow paths, absence of rails and the stunning views on either side of the trail make it a fun activity, albeit a nerve-wracking one.
Not only is Pai Canyon one of the more exciting things to do in Pai, but it is also one of the more popular ones. There are two reasons for that. One - it is very easily reachable from the main road. Two - it doesn't cost anything to enter. This is the perfect recipe for attracting tourist crowds. This means if you want to visit Pai Canyon during the day time, opt for the less popular early morning hours. To see the picturesque sunset, get there around 4:30 PM to beat the fellow tourist crowds. Grab a beer and enjoy the view.
If climbing rocks at night is not your idea of fun, you can also stay at the Pai Canyon rim which is very close to the exit and is perfectly safe. Either way would highly recommend wearing sturdy shoes and bringing a headlight.
Time spent: 2h
Cost: 0 (if you don't count the beers)
Yey or Nay: 😁 Yey
Sunrise at Yun Lai Viewpoint
Yun Lai Viewpoint is one of the top things to do in Pai, especially among the Chinese tourists. The viewpoint is a walking distance from Santichon Village (aka Chinese Village Pai). Many choose to drive all the way up to the viewpoint, bypassing the residential area between the viewpoint and the Chinese village. If you're visiting during the day and have time, consider parking your vehicle at the bottom and walking up instead.
Besides doing a bit of exercise, you will also pass by local houses and will get a glimpse into the lives of local Yunnan people. There are kids laughing, elderly men emotionally playing card games, mothers cooking meals and grandmas gossiping. There is something very grounding about the residents just going on about their lives, uninterrupted by the tourists on either end of their settlement.
We visited Yun Lai Viewpoint twice. Once during the day and the second time for sunrise. There were significantly fewer people during the latter, perhaps due to the fact that the weather turned out to be opposed to any sunrise viewing that day.
We arrived at the Yun Lai Viewpoint at around 5 AM and got ourselves a pot of hot Chinese tea and delicious hot buns with sweet condensed milk. As we consumed our yummy and pleasantly warm breakfast, we watched the darkness fade and be replaced by... a very thick fog. Amused by the absolute lack of visibility, we continued having rounds of tea and buns. Once the defeat became obvious (it was 7 AM, still no sun) and our bellies were full, we left Yun Lai Viewpoint.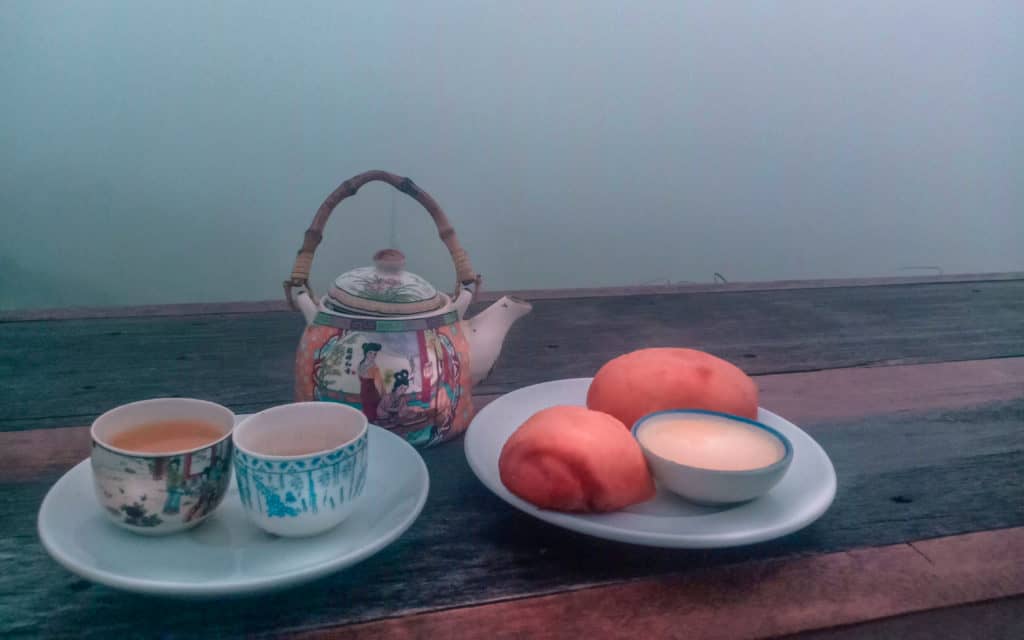 Although we didn't see the actual sun rise over the fields as it should have according to our imagination, being at the Yun Lai Viewpoint was still a fun and mouthwatering experience. Getting up this early and being in nature is just a very energizing thing to do, no matter the view.
Time: 15 min - 1h
Cost: Entrance 20 TBH (€0,5 / $0,6) + breakfast 30 TBH (€0,8 / $0,9)
Yey or Nay: During the day - 😐 meh, sunrise - 🙂 yey
Santichon Village (Chinese Village, Pai)
Santichon Village, also known as the Chinese Village Pai, is a tourist attraction aiming to showcase Yunnan tribe people's way of life. Yunnan people are Chinese dissidents who came to the area as a refuge from the Chinese communist rule.
Similar to the Yun Lai Viewpoint, visiting Santichon village is on every Chinese visitor's list of things to do in Pai. There are multiple restaurants, cafes, and shops serving traditional food and drinks. The entertainment offer includes all sorts of typical tourist activities such as horse riding, costume dress-up, shooting and alike. Although some may find it fun, it was nothing we could enjoy.
Time spent: 30 min - 3 h
Cost: expect to be higher than in Pai, 40 TBH for a coffee  (€1,1 / $1,2)
Yey or Nay: 🤔 Nay
Pai Bamboo Bridge
Boon Ko Ku So Bridge (or Pai Bamboo Bridge) is an impressively 815-meter long bamboo bridge connecting Pam Bok village with a temple on the other side. The elevation is built by the local farmers 1-2 meters above the lush rice fields. The purpose of Pai Bamboo Bridge is to allow the monks to get food from the village without doing a 6-km detour nor disturbing the rice fields.
The best time to visit Pai Bamboo Bridge is during the wet season when the rice grass is tall and lush in color. The views are just stunning at this time of the year. The risk of visiting during the wet season (June to November), as we've learned on multiple occasions, is that it might rain. Heavily.
We got stuck at the Pai Bamboo Bridge for almost an hour waiting for the rain to stop. As it was getting dark with no rain break in sight, we decided to suck it up and drive back through the rain. Some fellow travelers opted for catching a ride with a taxi and leaving the bike there to pick up the following morning.
Time spent: up to a couple of hours (especially if hiding from the rain)
Cost: 20 TBH (0,5 / $0,6)
Yey or Nay: 😍 Yey because of awesome landscapes
Lod Cave
Technically Lod Cave is not in Pai but is still within a reachable distance for a motorbike trip and is thus on the list of things to do in Pai. Lod Cave is actually a huge complex of caves stretching over 1.5 km. There are three main sections, the furthest one accessible by boat only. Yes, boat. There is a river floating through the caves with a variety of fish living in it! Size and age are what makes Lod Cave one of the most impressive caves in the country.
If bats, stalagmites and stalactites don't necessarily turn you on, you might still consider doing the trip for the sake of the journey there. The road to Lod Cave is a mountainous one making it a fun drive with excellent views on the valley. Make sure to stop at the Kiew Lom Viewpoint to enjoy the scenery.
We'd highly recommend leaving Pai early in the morning to avoid driving back in the dark, as we did. It's manageable but is definitely not the most fun experience.
Time spent: 2h in cave + 3 h driving
Cost: entrance+ guide 450 TBH for three people (€11,8 / $14)
Yey or Nay:  😁 Yey
Land Split Pai
The land split in Pai is one of the newer things to do in Pai and is the result of an earthquake in 2008. Overnight a land cracked and split, forming an 11-meter deep and 3-meter wide passage. The farmer who owned the land turned this crack into a tourist destination while running an ecological farm just next to it.
Although the land split is interesting to see and to walk around, it's the local farmers who are the true gem of this place. As you arrive, you will be greeted with a freshly made hibiscus juice and a set of yummy locally grown snacks. Don't rush and use this as a chance of meeting locals while traveling. Our minds were simply blown by the depth of general knowledge, hospitality, generosity and the number of languages spoken by the charismatic man running the ecological farm. Just wow.
Time spent: 20 min for the land split and 1h for chatting
Cost: donations-based
Yey or Nay: 🤩 Yeeeeeey!
Pam Bok Waterfall
Pam Bok Waterfall is a seasonal one, meaning its size depends on the amount of rainfall. The waterfall is in a narrow canyon and conveniently has a couple of rocks on either side of the wall to jump from. This inconspicuous place is one of the beloved things to do in Pai by the local young boys who spend hours practicing various jumping tricks. If you're lucky, the guys will share a spot near the waterfall with you 😉
Time spent: 30 min
Cost: free
Yey or Nay: 🙄 if you're in the area… otherwise not a must...
Yoga in Pai
Yoga in Pai is awesome and should definitely be on your list of things to do in Pai. As you walk through town, you will see multiple offers and schedules of yoga classes. Yoga is a great way to boost your slow travel mood while staying physically and mentally fit. We attended a couple of sessions at the Sawasdee Pai Yoga and only wish we had found it sooner.
Ashtanga with Nicha was one of the most challenging yet rewarding yoga sessions we've had in a while. Nicha is an inspiring yogi and a great teacher catering to all student levels.  
Time spent: 1.5 - 2h
Cost: 250 - 300 TBH ( €6,7 - 7,9 / $6,6 - 9,3)
Yey or Nay: 😍 🤩 😃 Ooooooh yey!!!
Pai Walking Street - the Night Market
Besides many restaurants, what Pai Walking Street also offers is a decent street food selection for a fresh and affordable dinner. Most probably a standing one, one should add. Don't expect to see many stands with traditional food, the majority of meals offered are at least inspired by Western cuisine. However, just before you dismiss this dining option, try one of the dishes at Shampoo Baking Potatoes. These baked potatoes are delicious and were our unbeatable culinary highlight of Pai Walking Street (we kept coming back!).
Time spent: 1 h
Cost: 50-120 TBH (€1,3 -  3,2 / $1,6 - 3,7)
Yey or Nay: 😋 Yey
Pai Walking Street - the Bars
Yes, Pai Walking Street looks like a (very) little sister of the infamous Khao San road in Bangkok. There are tons of tourists, bars with neon signs, loud music and people offering magic shakes and alike on every corner. There's no fighting it. If you're on Pai Walking Street at night you have to embrace it and join in or simply leave.
Since late night partying is not necessarily our scene anymore, we enjoyed a couple of drinks at one of the local pubs, playing pool and dice with Nico - a fantastic guy we've met on the way to Pai. You can simply walk down the road and see which bar you like the most or which bar offers the best happy hour cocktails.
Time spent: 🙂
Cost: 100 TBH for a cocktail (€2.6 / $3,1)
Yey or Nay: 🤪 🤪 🤪
How to Get to Pai 
There are two main ways to get to Pai - by motorbike or one of the minivans running regularly from Chiang Mai. No matter the means, what you need to know about the road to Pai is that it has over 700 turns. Combine that with the less than smooth typical Thai minivan driving and you get everything it takes for perfect motion sickness. It is very common, it does happen to many people, but it's not a big deal. 🤢🤢🤢  Just pack a plastic bag with you.
There is also a small airport (IATA code PYY) with domestic flights to Chiang Mai, albeit on a very discontinuous basis. At the moment of writing this post, there are no scheduled flights servicing the route.
Where to Stay in Pai
Definitely off the Pai walking streets, whether you join the party or not. Everybody needs some sleep and rest. We found Phu View Guesthouse to be the perfect choice for us because of its proximity to town yet sufficient distance to feel disconnected from civilization. Nutella for breakfast was an unarguable bonus.
To Go to Pai or Not to Go to Pai
If you decide to go to Pai, don't look back and immerse yourself into it. Pai may not be a hundred percent what you imagine, expect or wish it to be, but visiting it will be a unique travel experience regardless. Making sure it is a positive or even better - a fantastic one is predominantly your responsibility. Now that you know what to expect, be smart about your choices of things to do in Pai and keep your mind and heart open.
Backpacking Southeast Asia for almost a year, we were glad we came to see this town in Northern Thailand. For us personally, Pai was undeniably worth visiting.
Are You on Pinterest? Pin this!